Saturday, December 3rd, 2022 - 7:30PM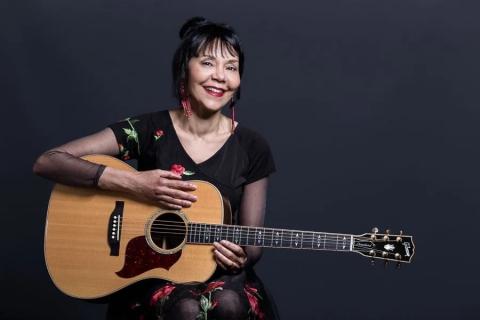 THIS CONCERT HAS BEEN CANCELLED DUE TO ILLNESS
ALL TICKETS WILL BE REFUNDED IN FULL
Performing songwriter Thea Hopkins will open the season in a live concert at the New Revival Coffeehouse on Saturday Dec. 3 at 7:30 p.m. A member of the Aquinnah Wampanoag tribe of Martha's Vineyard, Thea calls her music Red Roots Americana. She has been described as a "standout writer" by the Washington Post.
Thea's song, "The Ghost Of Emmett Till", from her highly praised 2018 EP, "Love Come Down" was awarded the grand prize by the Great American Song Contest in March 2021. There were over 1900 entries from forty three countries.
In "Love Come Down" Thea created, in just six tunes, an elegant and seamless song journey that begins with a gentle invocation ("Love Come Down"), ends with a lullaby ("Until Then") and gracefully travels to a few dark American landscapes in between.
She first came to wider public notice when Peter, Paul & Mary recorded her song "Jesus Is On The Wire" in 2004, and then again in 2010 with the Prague Symphony Orchestra. It is considered one of their later signature songs.
" 'Jesus Is On The Wire' is a modern classic" -- Roberta Schwartz, Folk & Acoustic Music Exchange
"An artist whose narratives drip with metaphor and imagery" -- Americana UK
The New Revival Coffeehouse is at First Parish Church of Stow and Acton, 353 Great Road in Stow. Tickets are $17 in advance and $20 at the door. Doors open at 7:00. Masks are optional.
Buy advance price tickets at Eventbrite.com
For more information, see www.theahopkins.com. For questions, call 978-274-2593, or email coffeehouse@fpc-stow-acton.org.