The Reverend Dr. Cynthia Landrum, Minister
Our minister is the Rev. Dr. Cynthia Landrum. Cindy has been in the Unitarian Universalist ministry since 2001. Prior to her arrival at FPC, Cindy served churches in Clarklake, Michigan; Gardner, Massachusetts; and Houston, Texas. She was awarded the title of Minister Emerita from her last congregation, the Universalist Unitarian Church of East Liberty, because of her leadership strengths and long tenure. Cindy has a BA from the University of Michigan in English and Psychology, an MA from the University of Georgia in English, and a Doctor of Ministry from the Meadville Lombard Theological School. Her MA work was on folk narratives in the AIDS caregiving community, and her D.Min. dissertation focused on the shifting relationship to feminism among her generation of female UU ministers.
Cindy was raised UU, and is a strong supporter of Unitarian Universalist religious education as a result. She describes herself as a spiritual humanist who draws from a wide variety of religious and secular sources for her sermons. She draws in particular from her love of Christian storytelling, Pagan and Wiccan ritual, and Buddhist practice. Secular sources that have influenced her range from the literature of the holocaust to science fiction and fantasy, and even Winnie-the-Pooh.
Cindy has been very active in our larger association and minister's groups, and is an avid writer, and has published a book of sermons and has had writings published in UU World on several occasions. She has created two coloring books of her Zentangle art which have been used by congregations all over the country.
Cindy has been very active in social justice work and spent 10 years working toward getting a non-discrimination ordinance adopted in Jackson, Michigan to guarantee protection for LGBTQ+ individuals, which was passed in the winter of 2017. She has also served on the boards of social justice organizations, including for both racial justice and LGBTQ issues.
Cindy has a husband, Peter Morrison, a daughter, and a cat. Her family (except the cat) enjoy science fiction and fantasy books and movies, are avid board game players, and enjoy art and crafting. E-mail Cindy
Michelle Coté, Director of Religious Education
Michelle Cote has been serving First Parish Church of Stow& Acton since 2008. Prior to coming to FPC she taught for over 30 years in a variety of positions including literacy specialist, special educator, owner/director of a learning enrichment center and working with adults with disabilities. She has a Master's Degree in Education from Lesley University and a Bachelor's Degree in Education from Wheelock College.
She takes all her experience with children, youth and adults and uses it to create an array of programs for the Religious Education Program. She is particularly interested in creating programs that build a sense of faith and community amongst the children and youth. Working closely with the Religious Education Committee she oversees the Religious Education classes, the youth groups and the rites of passage programs that are an integral part of First Parish.
Michelle strongly feels that each child and youth has something special to offer the Religious Education Program and to FPC. She works closely with all interested children,youth and families to help each child and youth become an integral part of the FPC community. E-mail Michelle
Mike Pfitzer, Director of Music
An experienced choral director, Mike Pfitzer previously taught at the University of Wisconsin–Madison, where he was the conductor of the University Chorus and the assistant conductor for the UW Concert Choir under Director of Choral Activities Beverly Taylor. While a student at Tufts University, he was the assistant conductor of the Tufts Chorale, Chamber Singers, and Concert Choir, leading the latter group in a performance of Faure's Requiem in 2008.
Mike has extensive experience as a cantor and choir director, having led the bilingual English and Spanish choir at St. Clement's Church in his hometown of Saratoga Springs, NY. In addition to church work, Mike has a strong affinity for music on the stage, having served as the conductor and assistant conductor for musicals and operas in Medford, MA, Madison, WI, and Central France. An experienced baritone, he has performed in opera ensembles and choirs for years, having sung in solo performances with choirs across the country, and in voice recitals in the U.S., France, and South Africa.
Mike received the Master of Music degree in Choral Conducting from the University of Wisconsin–Madison, where he studied with Beverly Taylor, and graduated magna cum laude with the Bachelor of Arts degree in Music and History from Tufts University, where he studied with Andrew Clark (Harvard University). Other conducting teachers include Dr. William Weinert (Eastman School of Music Summer Institute) and Jeff and Brenda Vredenburg (Crane School of Music, SUNY Potsdam). Please visit www.michaelpfitzer.com for more information or email Mike.
Deedee Perkins, Parish Administrator
At FPC, Deedee manages the Parish Office, is responsible for the Sunday Orders of Service, the weekly 'Sunday & This Week' newsletter, The Chronicle (monthly), and the calendar. She works directly with the Minister, and responds to external inquiries. E-mail Deedee
Joleen Trotta, Membership Development Coordinator
E-mail Joleen
Sanghee Kim, Pianist/Organist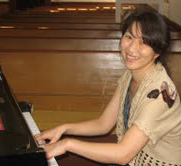 Sanghee Kim previously served as the pianist/organist for the Unitarian Universalist Church of Winchendon from 2005 – 2011. In addition to her work in Winchendon, Sanghee has accompanied for the Wesley United Methodist Church (Medford, MA) and played for voice master classes both in the United States and abroad.
Sanghee maintains an active performance calendar, having given recitals in Boston, Cambridge, Worcester, Winchendon, and her native South Korea. She is also a successful teacher, giving private lessons as well as working with the Joy of Music School in Worcester since 2003. Sanghee received the Bachelor of Music degree in Piano Performance and Music Education from Pusan National University in South Korea and the Master of Music degree in Piano Performance from the Boston Conservatory. She has also received a Performance Diploma in both Piano and Collaborative Piano from the Longy School of Music (Cambridge, MA), where she studied with Sally Pinkas and Brian Moll. Other teachers include David Deveau and Irwin Gelber.
Paul Spanagel, Youth Coordinator
Paul is a recent graduate from the University of Pennsylvania's Graduate School of Education. He is a lifelong UU, grew up in Shrewsbury as an active member of the First Unitarian Universalist Church of Worcester, and eventually UUCW as well, holding leadership positions in both youth groups simultaneously. Throughout high school, he worked to bring the youth communities of the two churches together through fun, community, and service.
Prior to FPC, Paul worked at First Unitarian Church of Philadelphia as a lead teacher for older Sunday school students teaching the Windows & Mirrors UUA curriculum. He also co-facilitated the Coming of Age program, in an attempt to revitalize youth programming in a church with no youth group to speak of. Upon the conclusion of the program, all of the youth involved were interested in continuing to meet moving forward.
FPC is excited to have the opportunity to work with Paul as he offers youth ministry to our Junior and Senior Youth Groups. Paul will be looking for input from youth and parents as well as involvement from interested adults as he develops and runs these programs.
Janet Beatrice, External Publicity Coordinator
Janet is FPC's External Publicity Coordinator. Janet submits articles, calendar items, and worship information to local newspapers, TV stations, and on-line resources. FPC members can send listings, event info, or any questions about external publicity directly to Janet. E-mail Janet
Whitney Granger, Sexton
E-mail Whitney